Christine Forest

About Christine
When I paint, I find myself deeply immersed in the study of color and in the depiction of, not the actual beauty of an object of inspiration, but of the complexity of emotions triggered by it. I love my colors warm, bright and harmoniously blending together—a beautiful experience for the eye to embrace and an invitation for the mind to ponder. My art work is infused with a state of hope, well-being, joy and uplifting energy. It is the contemplation of endless possibilities. It creates a space that allows us to become a happier, more creative and more compassionate beings.

What are the primary themes in your art?
Painting the emotional signature of experiences and emotions: love, the sensation of being in flight, the irrepressible need for freedom of thought, the turmoil of opposing thoughts, the wonder of light, the energy of life.
How do you approach creativity? Is it a spontaneous or structured process for you to be creative?
I begin every piece with a general idea of what I would like it to be. Then I start painting, and things start happening. Colors blend in new, unpredictable ways. The brush moves unexpectedly, making a mark I did not expect. Different mediums do different things when combined, or when a little—or a lot!—of water is added. It's such a dynamic, fascinating process that I get swept away, and I can only follow its lead.
At some point, I stop and wonder what else might be needed. An accent here, perhaps? A dab of brighter or darker color there? I may leave the painting on the easel and keep staring at it for a while, trying to understand where it wants to go, what it's trying to say to the world.

Quite often, the final painting depicts something I was feeling or thinking around that time, without knowing I was feeling or thinking it. Each painting adventure is a path into my subconscious, and, because of that, they express thoughts and feelings that are universal.


What do you see as the connection between art and deep changes in our society?
Art acts like a mirror into the human soul, reflecting who we are at any stage of our physical, social, and cultural evolutions. Because artists are an integral part of the society, they connect with the most profound joys and deepest wounds of the world.

Brian Rutenberg, who gives such life and vibrancy to Southern landscapes full of mystery, summed it up perfectly: "We offer a world obsessed with velocity the gift of slow seeing and slow thinking, perhaps the most sublime gift one human being can offer another. We are dreamers. Our job is to glow in the dark, and the world needs more people who glow.'' (Clear Seeing Place: Studio Visits, 2017)
How do you feel when you're immersed in your creative process? What is it like?
It's truly magical. Time stops. The world stops. I am in between realities, in a sacred, multidimensional universe where things move, interact, and connect to achieve balance and harmony.

Who or what is currently inspiring you right now?
Joan Mitchell's abstract expressionist painting "George Went Swimming at Barnes Hole, but It Got Too Cold" left me mesmerized. I could feel the cold in the patches of white and picture the riverbanks in the earthy colors. Unrestricted by form or shape, my gaze traveled freely over the abstract work, taking in imagery and connecting with the environment. I'm always astounded at how something without shape or form can create so many sensations with only colors and bold strokes.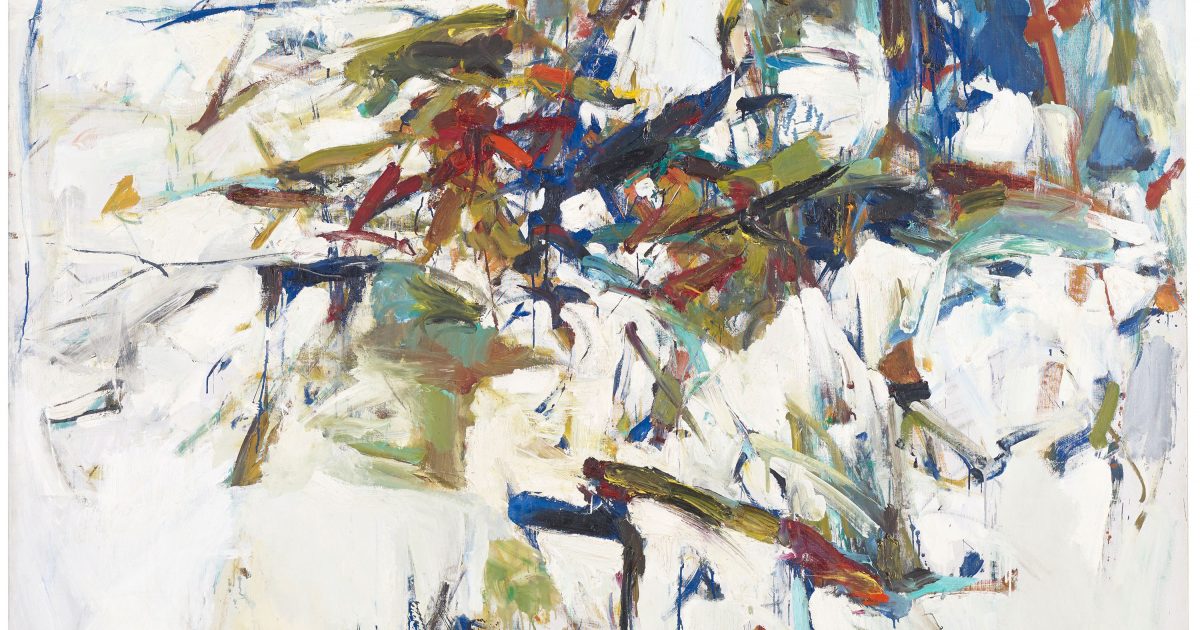 Joan Mitchell, George Went Swimming at Barnes Hole, but It Got Too Cold, 1957. Oil on canvas, 87 3/4 x 78 1/4 inches (222.885 x 198.755 cm).

In early March 2020, Julie Mehretu, who is one of the most influential abstract painters of this generation, had an exhibit at the Los Angeles Museum of Art. I saw her work and was in awe. When my friends left to see other exhibits, I remained immersed in her work until closing time. Three days later, the pandemic hit, and the museum, along with our lives, closed down for a year.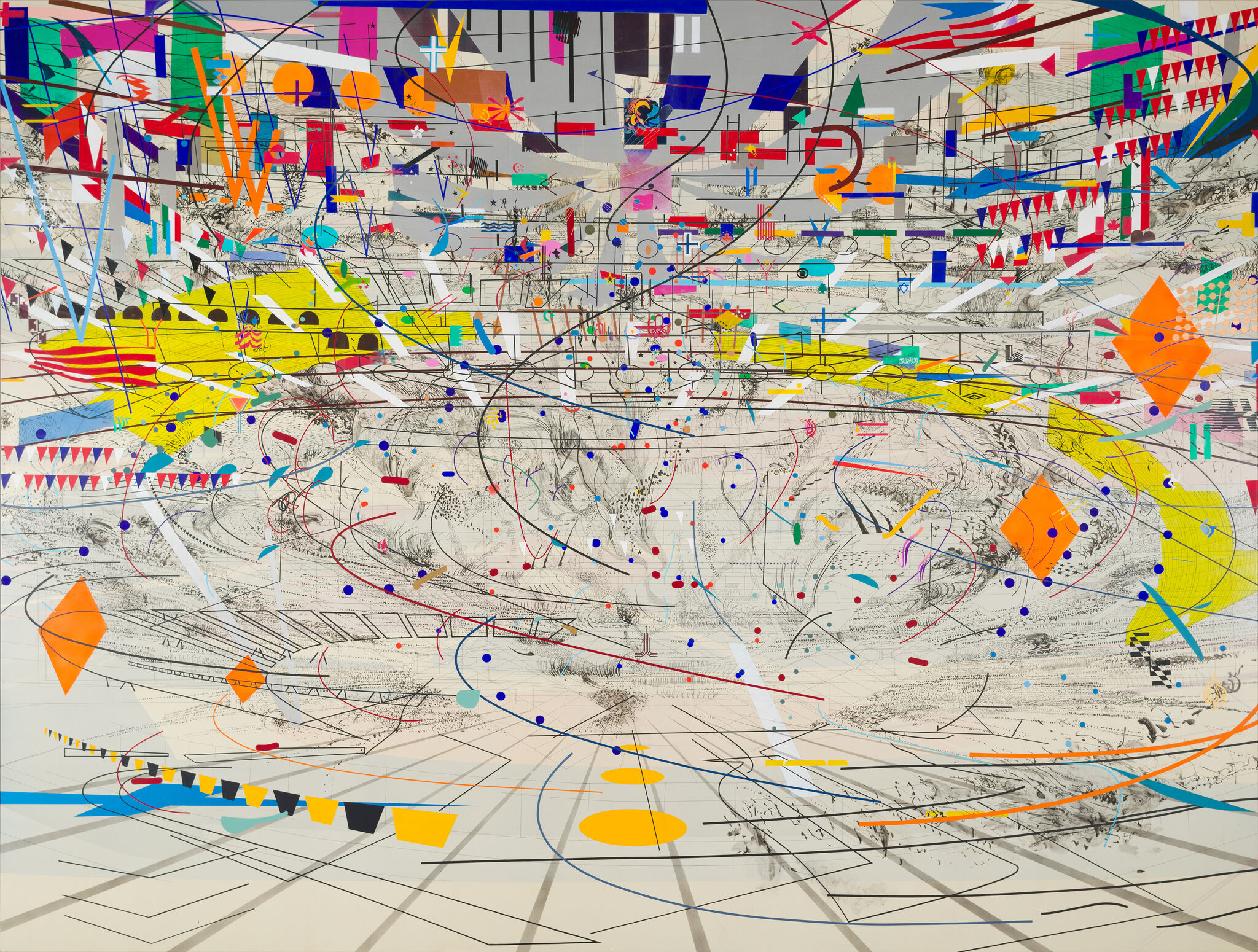 Julie Mehretu, Stadia II, 2004. Ink and acrylic on canvas, 107 3/8 × 140 1/8 in. (272.73 × 355.92 cm).
How did you become interested in art? What influenced you early on?
In 2000, I visited Nijo Castle in Kyoto, Japan. It is a masterpiece of art and architecture from the beginning of the Edo period, one of the most elegant and beautiful artistic periods in Japan. I knew nothing of this the day I visited the castle. All I knew was that I was deeply moved by the ancient screen paintings of twisted pine trees filled with a vigor and energy still fresh and powerful. The jaunty petals of chrysanthemums, enormous in size, yet still delicate and playful despite being painted hundreds of years before.

I wanted to immerse myself in these images, in the feeling of them, in their universe, in the minds of the artists who painted them hundreds of years ago. I wanted to study this art form—brush painting— so I might better understand how it held such magic.

When I returned home, I studied Asian brush painting for several years, then explored other techniques and styles. When I was painting landscapes in acrylics, I realized I needed more creative spontaneity in my work, more opportunity to express my inner thoughts and feelings. I ended up painting the emotions stirred up by looking at those landscapes, which I found much more satisfying.

I progressed from there, painting the emotional signature of other things, like love, the sensation of being in flight, the irrepressible need for freedom of thought and expression, the turmoil of opposing thoughts. And so…I became an abstract artist.

What do you think art is for?
To be shared
To be enjoyed
To warm up our hearts
To help us escape, even for one minute, into a kinder, more beautiful reality
To provoke emotions and delight the imagination

How do you want the viewer to feel when they look at your work?
In abstract painting, the viewers complete the painting by adding their own imagination and feelings to it. As artist, I provide an embracing space for that to happen. I hope the feelings stirred up by my work are positive and transformative.
What is meaningful to you about your work?
For me, painting is an act of exploration and freedom. It's like visiting a really beautiful city, and you can't wait to see what wonders await you just around the corner. You happily keep going and going, taking in all the sights, marvels, and flavors along the way.
How do you wish to change the hearts and minds of people who experience your work?

I intend my paintings to be open invitations for viewers to leave behind the routines and struggles of daily life and spend a few moments living with compassion and lovingkindness towards themselves and others.
Christine's Sponsored Cause:

The Red Cross
I'm an artist, but I'm also a physician and a psychiatrist. I want the world to be a happier, healthier place, and I want to promote and support people and organizations who are working to make that happen.
I deeply relate to all the healthcare workers and volunteers who show up every day to help people overcome physical and emotional illnesses. It can be difficult to keep going and to believe that our contributions are making a difference, especially in the face of overwhelming suffering and illness.
The Red Cross is more than just an organization. It's become a symbol of the global community of volunteers who are out there offering help and hope, just like we are. One person at a time. One crisis at a time. We aren't alone. And, together, we are making a difference.
See Asocha's Sponsored Causes for an overview of the Red Cross.
Browse Christine's Collection.
Find Christine on:
Instragram    christineforestart.com